About Nan's School of Dance
Sharing the Love of Dance Since 1975
Family Tradition of Teaching Dance
Nan's School of Dance began in 1975 when Nan Holt Smith started teaching 40 students in her hometown of Yadkinville, NC. She and her husband, Chuck Smith, established the first Greensboro studio in 1982. Nan's oldest daughter, Jennifer Grinwis, has been director of the Greensboro and Yadkinville studios since 2002.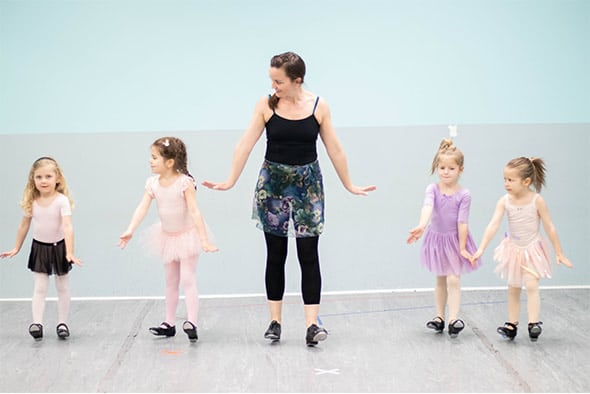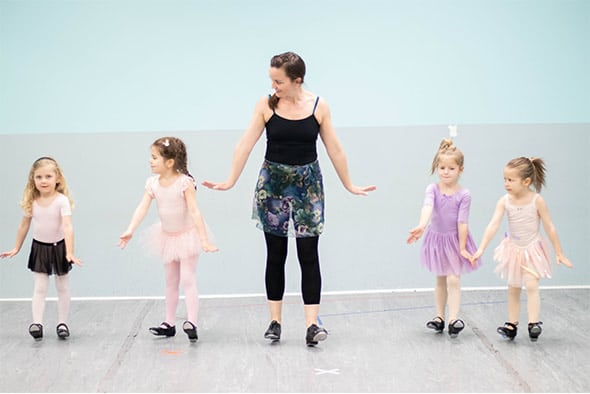 Our Director, Hillary White
Hillary White, Nan's youngest daughter, grew up in the studio where she started her dance training. She, and her husband Matt, have owned and operated the Raleigh location of Nan's School of Dance since 2012. She's thrilled to be able to share her rich dance history with her students.
Our Goal For Every Dance Student
The objective for our studio is to provide top-quality instruction at a competitive price. The goal for our students is to encourage technical proficiency in their favorite form of dance, but more importantly, to build self-discipline, poise, and greater self-esteem.
Our Classes and Studios
From August through May, we offer instruction in Ballet, Tap, Jazz, Contemporary, Hip Hop, Acro, and Pre-Dance, at all levels from professionally-trained adult teachers. Our studios are fully equipped with cushioned, floating floors, mirrors, and barres designed specifically for dance. Nan's School of Dance is a family business with a tradition of providing a service for families in our community.
We offer classes for all ages and skill levels using only kid-friendly music.
Choose from a Variety of Classes
Hillary White
With a strong background in dance, Nan's youngest daughter, Hillary White is our owner and director at Nan's School of Dance in Raleigh. She grew up at the Nan's School of Dance in Greensboro where she received the basis for her dance training. Hillary attended North Carolina State University from 2000-2005. While there, she was on the NC State Dance Team, and performed at football games, basketball games, and Nationals Dance Championships. In 2004, Hillary graduated with a Bachelors of Environmental Design in Architecture. In 2005, she completed the 5-year architecture program, and graduated from NCSU with a Bachelor of Architecture. After working for a large architecture firm for several years, Hillary went out on her own & became a licensed architect. In the same time that she became an architect, she also started teaching for a local dance studio. While there, she taught Ballet, Tap, Jazz, Hip Hop, Contemporary, PreDance, and Cheer. During that time, Miss Hillary realized how important it was to her that she carry on the Nan's School of Dance tradition and decided to open up the Raleigh location of Nan's School of Dance in 2012. Since then Miss Hillary continues to share her passion for dance with students and parents!
Lindsay Winthrop
Lindsay Winthrop is a local dancer, choreographer, and teacher based in Raleigh, North Carolina. A graduate of the University of North Carolina at Greensboro, she holds an MFA in choreography and a BFA in dance education from East Carolina University. Lindsay teaches movement at Raleigh Oak Charter School and is co-owner of Tobacco Road Dance Productions. She has presented dance works in local festivals, including Emergence, the North Carolina Dance Festival, the Wake Forest Dance Festival, and Sites in the City. Lindsay enjoys teaching dance at Nan's School of Dance and spending time with her family and dogs!
Vanessa Snediker
Miss Vanessa is originally from Greensboro, North Carolina and danced for 15 years at On Stage School of Dance. She trained in various genres such as Tap, Ballet, Hip-Hop, Jazz, and Contemporary. She has trained with Kent Boyd (SYTYCD), Valery Lantratov, Scott Fox, Justin Mann, and more. From 2011-2018 she competed at numerous competitions on the east coast and in 2016 she was accepted to the Joffrey Ballet Summer Intensive in NYC to train for two weeks in Jazz, Ballet, and Contemporary. From 2014-2016 she attended the Carolina Dance Masters Convention and trained in many different styles. In 2016-2018 she was recruited as a back-up dancer for up-and-coming artist Brayden Taylor and was mentored by Dres Reid, former back-up dancer for Michael Jackson and other notable artists as well. In addition to teaching at Nan's School of Dance, Vanessa is also currently dancing and choreographing with NC State's Fusion Dance Crew. She loves sharing her passion of dance with others, especially her students at Nan's!
Olivia Benincase
Ms. Olivia was born and raised in Long Island, NY and relocated to Raleigh, NC in 2019. She trained in ballet, tap, lyrical, jazz, hip hop and contemporary since the age of seven. She studied Dance Education at Winthrop University as well as attending Broadway Dance Center's Training Program in NYC. Her passion for dance was sparked as a little girl and it only felt right to continue to show her love by teaching. Miss Olivia is happy to be a part of Nan's and is so proud of all of her students!
Destini Darden
Miss Destini joined Nan's School of Dance in 2018 and has been sharing her passion for Acro and Hip-Hop ever since. Trained in all styles of dance including Ballet, Tap, and Jazz, she specializes in Hip-Hop, Acrobatics, and Musical Theater. Destini's dance career started when she was 3 years old. She continued on to become a competitive dancer before pursuing a teaching career. She has been teaching for 4 years and has taught at multiple master classes and conventions including the annual master class at Nan's School of Dance in Greensboro. Destini knows how to make flipping fun and Hip Hop funky!
Kelly Goldschmidt
Ms. Kelly has been with Nan's School of Dance since 2017. She graduated from Appalachian State University with a Master of Science in Business Administration and a Minor in Marketing. Kelly started dancing as early as 3 years old and performed in tap, ballet, jazz and acro. She handles both sides of the business between teaching Tap and managing the office. Kelly enjoys spending time with her husband, two children and a gigantic golden doodle named Beau. In her downtime, she teaches preschool to three year olds and likes to travel!
Want to request a free trial or learn more about our classes or studio?
Just fill out this form and we can answer all your questions. We look forward to seeing you soon in our studio!
Sincerely,
Hillary